ATC Strike In Italy On Saturday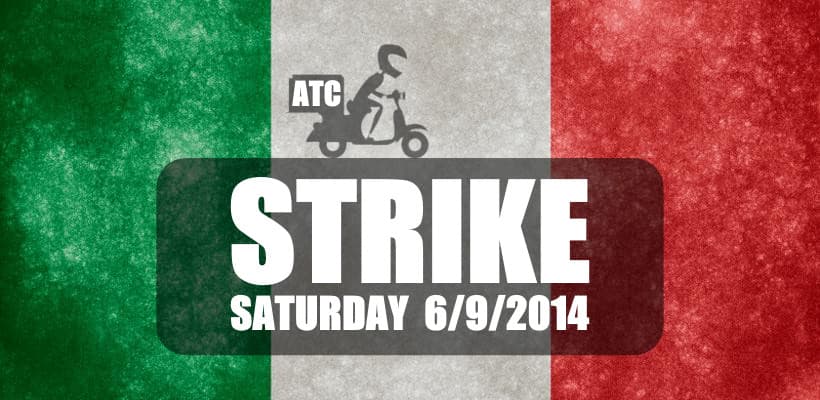 I must say that it has been very busy week in aviation and it still hasn't ended. Besides Icelandic volcano eruption, there was also an eruption in Papua New Guinea followed by a strike of Lufthansa's subsidiary Germanwings - C'mon, I can't even write this posts so quickly to cover everything! The latest news for upcoming weekend - ATC strike in Italy on Saturday, 6th September.
The strike could affect every single airport in Italy but according to Italian law, intercontinental and inbound flights will not be affected. It will take place between 12:30 p.m. and 4:30 p.m. (Central European Summer Time) so many flight delays and cancellations are expected during a whole afternoon.
I know, it sucks. You were planning your trip few months in advance and when the departure date is approaching and you look forward to your vacation, somebody decides to hold the strike in order to get higher salary or more sick days - in fact, I didn't find any particular reason of the strike, I guess they are just Italians.
However, I want to make your day more pleasant (as usually) and I'll tell you all hidden secrets from the legislation so in case your flight will be delayed or cancelled due to the strike, you'll be perfectly armed to get your flight compensation easily on the go. You can check your rights directly on our website and if you are entitled to compensation, we will pursuit your claims on your behalf for success-based fee.
The legislation specifies that an operating air carrier shall not be obliged to pay you any financial compensation for delayed or cancelled flight, if it can prove that the delay or the cancellation is caused by extraordinary circumstances which could not have been avoided even if all reasonable measures had been taken.
The situation with the strike is completely the same as in case of the volcanic eruption so if you already read our last post, you are on a good way to become an aviation expert. Both scenarios are covered by the term extraordinary circumstances and generally it means that airlines aren't obliged to pay you the financial compensation. However, you are still entitled to reimbursement or re-routing and to receive appropriate care. Let's have a look at it in detail.
RIGHT TO REIMBURSEMENT OR RE-ROUTING
If your flight is cancelled as a consequence of the strike, you are entitled to be offered the choice between reimbursement and re-routing (just one of these options, it's up to your decision). The reimbursement can be claimed also in case of flight delay which lasts at least for 5 hours.
The reimbursement must be made within 7 days in cash, by electronic bank transfer, bank orders or checks or possibly in travel vouchers (only if you want so). I guess it's needless to mention that the reimbursement in cash is the most convenient way and I encourage you to insist on it, it's your right.
Moreover, the reimbursement must cover the full cost of the ticket at the price which it was bought. If the cancelled or delayed flight is your connecting flight and the disruption caused that your journey is no longer serving any purpose in relation to your original travel plan, you are entitled to be reimbursed for the parts of the journey already made together with a free return flight to your first point of departure.
If you decide not to accept the reimbursement, you are entitled to be re-routed (in case of the flight cancellation). The re-routing must be performed under comparable transport conditions to your final destination. It's up to you to choose whether you want to be re-routed at the earliest opportunity or at a later date.
RIGHT TO CARE
The airline must offer you meals and refreshments in a reasonable relation to the waiting time and, where a stay of one or more nights becomes necessary, you must be offered a hotel accommodation with a transfer from and to the airport - everything free of charge.
In case of the flight delay, you are entitled to obtain above described care once your flight is delayed at least for:
2 hours in case of flight of 1,500 km or less
3 hours in case of flight between 1,500 km and 3,500 km
4 hours in case of flight of more than 3,500 km
Now I can hear you asking me a question: "How can I figure out the distance of my flight?". And I have the answer - just try our web app. It has a built-in algorithm that will take care of such useless details so you can enjoy your trip or compensation or whatever you want.
---