How To Get Compensations From Codeshare Flight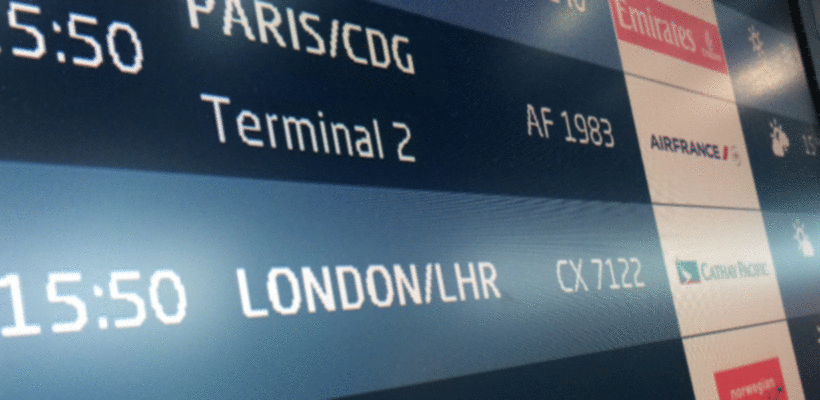 On behalf of American Airlines, British Airways, Finnair and Cathay Pacific, I would like to welcome you on board of the flight to London." How many times have you heard such welcome message from a flight attendant and wondering why so many airlines are involved when there is just one aircraft preparing to take off? In fact, it's nothing extraordinary within the aviation industry and it's called a codeshare agreement or simply just codeshare. Let me tell you what benefits it brings you and what you should be aware of.
What is codeshare?
Although it might look quite confusing at first sight, codeshare is a simple business agreement between two or more airlines which allows them to sell tickets for the same flight under their own flight numbers (codes). The term "code" refers to the identifier used in flight schedule, generally the two-character IATA airline designator followed by a flight number (e.g. AF 390 that refers to the flight of Air France).
There is always an airline who actually operates the flight (the one providing an aircraft with a crew) and is surprisingly called an operating carrier. On the other side, there is one or more airlines that sell their own tickets for that flight but don't operate it. These airlines are designated as marketing carriers.
Still confused? I'll give you real example. There exists a flight from New York to London, operated by British Airways under the flight number BA0112 (operating carrier), which can also be sold by American Airlines (marketing carrier) under the flight number AA6133. It is always the same flight with the same aircraft of British Airways and what I found the most interesting (or weird) is the fact that American Airlines is more expensive by more than $600 - it reminds me of the importance of flight search engines (my favourite ones are Kayak and Skyscanner so give them a try).
Why do airlines do that?
You probably guess that codesharing is one of the core feature of airline alliances cooperation. In other words, codesharing is one of the major reason why smaller airlines want and more accurately need to be part of either Star Alliance, SkyTeam or Oneworld.
Airlines share their codes either in order to virtually expand their network (they can pretend that they fly all over the world but in fact they operate only few aircrafts within Europe) or to enhance the frequency of flights on the same route (they combine their operating and marketing flights on the same route).
As a result, airlines achieve higher reputation because their codes are being displayed worldwide. Operating carriers also have better payload factor thanks to multiple selling points all over other airlines' websites - unfortunately for you, it means higher probability of being squeezed in a middle seat.
Codesharing has many advantages for airlines but I am perfectly sure you are much more curious about benefits that can affect your own travel experience. Let's have a look at them.
What benefits does codesharing bring to passengers?
Every single benefit comes from airlines' extensive flight network. You can easily travel all around the world with just one single airline (more precisely under one airline's code). It means that you can choose from variety of destinations, departure times and because airlines share next to the code also some operational costs, flight tickets can get cheaper. On the other hand, if codesharing airlines dominates the route and eliminate their competitors, prices can significantly increase so the advantage of price vary from route to route.
Codesharing also forces airlines to adjust their flight schedules in order to synchronize their arrivals and departures so flying becomes much more time-effective. Moreover they are able to tweak their luggage handling procedures so your transfer can be as smooth as possible - if they don't tweak it successfully and your luggage gets delayed or lost, check out our earlier post about luggage delays.
Last but not least, codesharing has a huge impact on your frequent flier account because it allows you to fill single account with miles flown on several different carriers. Just think twice before every booking to get the most of your journey.
How to recognize codeshare flight?
A very first moment you can notice that your flight is operated by another carrier than you initially expected is during your booking. I checked several websites of major airlines and there was always specified who operates the flight.
You can also see it on your flight ticket. If your flight is codeshared, there will be written something like "OPERATED BY…" right under your own flight number. It's a clear sign that your airline is the marketing carrier.
Because I know that many of our blog readers are aspiring aviation experts, I'll give you one last and most advanced tip. Remember how I wrote about flight numbers above? So if there is a 4-digit number which starts with a number higher than 1 (e.g. AF 4600), the probability of successful revelation of codeshared marketing flight is pretty high.
Who is responsible for flight irregularities?
You know, our app is about flight compensations and since I was asked during my last Twitter Q&A session a question about responsibilities of both operating and marketing carriers, I just simply want to make it clear enough for all of our readers right now.
So, who you should claim to when your flight gets delayed, cancelled, your baggage gets lost or you are bumped off of the flight? Marketing airline? Operating airline? My answer is - once your flight is covered by the legislation, you can claim to whoever you want. That's another advantage of codeshare - both operating and marketing carriers share their responsibilities and whoever you choose to claim to, they must pay attention to your complaint.
However, there is another bad airlines' common practice you should be aware of. Once you claim your rights to operating carrier whilst you had previously entered a contract with marketing carrier, you could be quickly wrongfully rejected by the operating carrier with an explanation that only marketing carrier is responsible because of your agreement. Sometimes it's like fighting with windmills so my recommendation is to claim your rights to the airline you entered a contract with. According to the statistics, the amount of rejections is lower if you accomplish it this way so your complaint can be at least processed faster.
There is a very important thing you should keep in mind during a booking of your next flight. The Regulation (EC) No 261/2004 states that all outbound EU flights as well as all inbound EU flights OPERATED by EU-based airlines are covered. The word "operated" is here in tight relation to codesharing issues and I am sure you realized its importance just now. If you buy the above mentioned flight from New York to London from American Airlines, which is the marketing carrier and apparently isn't EU-based, you are still entitled to possible compensations because the flight is operated by British Airways. Therefore, you should always pay attention to this rule during your future bookings and always check which airline operates the flight as you may find out that your journey is worth up to EUR 600 compensation.
I hope you found today's post interesting and as usually, I would be very happy if you leave me your opinion or share your own experience through comments.
---